Muah Chee (Microwaves Method)
All the sudden feels like eating Muah Chee something fast and easy. It takes about15 minutes or less to make. Okay I'm slow it takes me 30 minutes to do so. *LOL* I'm using Microwaves method this time. So it saves lot of time.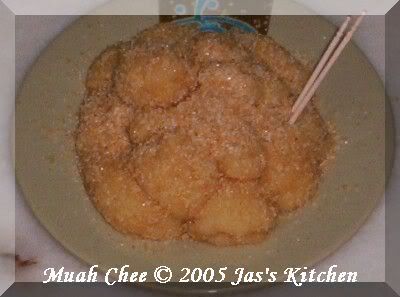 Muah Chee
Ingredients:
250g glutinous rice flour
350ml water
4 tbsp onion oil
Peanut Mixture: (Ready-mix peanut mixture can be found in supermarket)
Ingredients:
Peanut, finely grinded
Fine sugar
Toasted white sesame seed
Method:
1. Mix glutinous rice flour, water and 1 tbsp of onion oil together to form a smooth batter.
2. Grease a microwaves proof ware with 2 tbsp of onion oil.
3. Pour batter over cover it with lid and bring to microwave High for 2 minute. Remove from microwave quick stir (at one direction) the semi-cooked dough. Return dough to microwave and High for 1 minute. Remove, stir and return to the microwave high for 30 seconds. Repeat this method twice or until it cooked.
4. Quickly stir the cooked dough at 1 direction until it blends well. Brush the remaining onion oil on the cooked dough to prevent from dry up after long hours.
5. Cut cooked dough into small pieces and toss it with peanut mixture.
6. Serve and sprinkle more peanut mixture as desire.
Note:
1. Ready-mix peanut mixture and be found in supermarket.
2. Make sure you brush the cooked dough with oil to prevent it dry up after long hours.