Ginger Egg White Pudding 姜汁撞奶
Made this Ginger Egg white Pudding today, which I found in Y3K magazine. This dessert it popular and it can be found in most dessert shops in Hong Kong. Though our local dessert shops don't have this dessert but they are quite easy to make. You can try making it at home.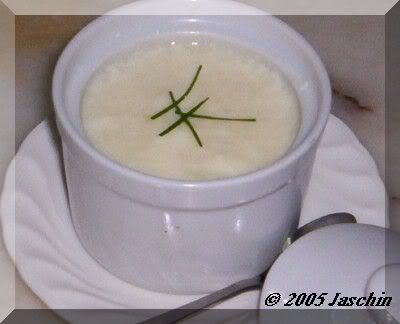 Ginger Egg White Pudding 姜汁撞奶
Makes 1
Ingredients:
180ml milk
1 tbsp sugar
A knob of old ginger
2 fresh egg whites
Method:
1. Pound ginger and extract the juice. Keep 1 ½ tbsp of ginger in a bowl with a cover. Keep aside.
Place 180ml milk and sugar together. Stir till sugar is dissolved add in egg white. 2. Beat lightly, strain through a sieve into a small pot. Keep it over low heat. Stir at all times till it comes to a boiling point. Take it off the heat and pour directly into no. (1). Cover it for 5 minutes to allow pudding to set.
3. Serve.
Note:
I did the same way as it said, but my pudding did not set after 5 minutes. I bring it to steam for 10 minutes.