Tau Suan
Made Tau Suan today.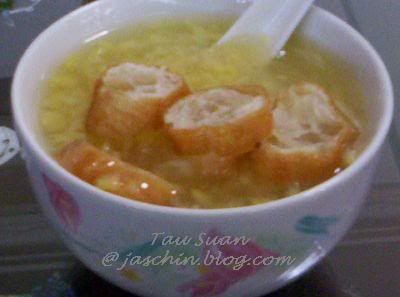 Tau Suan
Serves4 - 6
Ingredients
300g split green beans, skinned
200g rock sugar or castor sugar
2 liters water
2 pandan leaves, knotted
4 tbsp potato starch water, mixed with 3 tbsp water into a solution
Yu Tiao, sliced thinly
Method
1. Soak the beans in water for 30 minutes.
2. Drain and steam on high heat for 20 minutes.
3. Bring the rock sugar, castor sugar, water and pandan leaves to a boil.
4. Add the beans, boil for 5 - 10 minutes, and add in starch solution.
5. Cook until the soup thickens slightly and has a translucent look.
6. Serve hot with yu tiao slices.