Soybean Curd/Milk
Made Soya Milk/Curd early this week again. It my 2nd attempted to make soybean curd. From the picture could tell that my soybean curd fails! There are so many holes in it. But the soybean milk is great.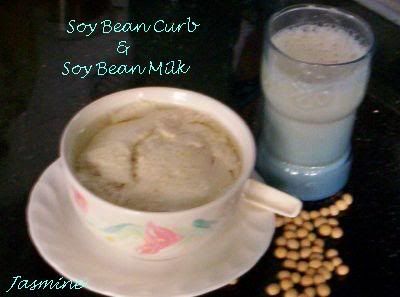 Soybean Milk/Curd:
Ingredients:
400g soybeans, soak overnight
3 liters water
For making Soybean Curd
1 tbsp corn flour
1 tbsp gypsum powder (calcium sulphate)
3 tbsp water
For Making Soybean Milk
1 liter water
Sugar to taste
Syrup:
300g sugar or brown sugar
1 cup water
2 pieces lemon
Soybean Curd:
1. Rinse and soak soybeans overnight or at least 6 hours.
2. Finely grind the cleaned and soaked soybean with 3 liters of water.
3. Squeeze out all liquid into a pot with a piece of muslin cloth.
4. Remove foam when necessarily and bring to boil for just a few minutes.
5. It tends to foam and overflow, so make sure the fire is low.
6. Mix corn flour and gypsum powder with 3 tbsp water and pour into a clean pot.
7. Pour in 1 1/2 litters of hot soybean milk and let stand for 15 - 20 minutes to set. (Never move the pot until the soybean curd is set).
8. Drain off any scum. Add the syrup and serve.
Soybean Milk:
1. Add 1 liter of water to the remains soybean milk to boil.
2. Add in the sugar to taste.
Syrup:
1. Bring the sugar to a boil.
2. Add the water and lemon set aside.
(Note: some Cantonese recipe do add bit of ginger).