Chicken Pie
Made these Chicken Pies last week. Using LeeLee's (hugbear) Chicken Pie Pastry Recipe and
Fiona
's Chicken Pie Filling. Thanks for sharing ladies!!!
Combined both recipes together Oh my it taste so heavenly. Though I did some changes I minus the potato and white wine and reduce the stock to ½ cup. Okay my skill wasn't good so the crust doesn't look nicely done. The filling seems so dry huh? Weird… there is some gravy in the filling but after baking the Chicken Pie the sauce seems like dries up.
Hmm... wrong move, I had make some of them without the base. Guess that the reason I had some pastry left.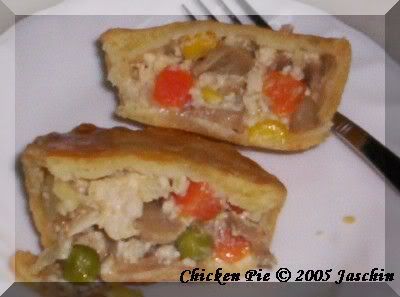 Ingredients: (Pastry)
200g butter
250 plain flour
110g plain yogurt
1tsp sugar
1 egg yolk
Filling:
1 large potato. Diced
1 large onion. Diced
1 carrot. Diced
½ frozen green peas
1 can mushroom, sliced
350g chicken meat, diced
200ml heavy cream
1/3 cup (80ml) white wine
½ cup stock
2 tbsp corn flour mixed with another ½ cup chicken stock
Salt and pepper to taste
Method:
1. For the crust. Pull all the ingredients into the mixing bowl except yogurt, and mix into a crumble. Add in yogurt and mix to a dough. Dough will be very soft so need to keep it refrigerated for at least 30 minutes.
2. For the filling. Boil potato and carrot until semi cooked. Add in frozen green peas, and continue to boil for another 10 minutes. Drain and set aside.
3. Heat about 2 tbsp of oil in wok and fry diced onion until transparent. Add chicken meat and mushroom, fry for a while to break up chicken. Add in boiled vegetable in Step 2, first ½ cup chicken stock, heavy cream and white wine. Stir-fry for a few minutes.
4. Add in the remaining chicken stock with corn flour mixture. Stir until the sauce has thickened. Set aside for later use.
5. The steps for chicken pie will be per normal. You can either do big pie or mini pie. Just need to roll out the dough, cut the size required and place in a pie dish. 6. Poke hole on the base using a fork and place ingredients on top. Cut another piece of dough to cover the