Jia Lei Domestic Class
This is what I had learnt from Jia Lei yesterday. Kueh Lapis, Durian Egg Tarts & Durian Mini Rolls. Quite disappointed I guess I wouldn't attend their class again.
There's are 11 of us, 9 trainees, 1 trainer and 1 assistant. Recording to Miss Bong (the trainer) said, her sister wasn't around to help her today so she got one assistant to helps her out in the kitchen. Miss Bong she started with Kueh Lapis first, that is the main reason why I attended her class.
We've been told Kueh Lapis has to be finish baking within an hour or else the cake will be over bake. And while Miss Bong she is concentrate on baking her kueh lapis and her assistant teaches us how to make the Durian Egg Tarts (I thought we are paying them and Miss Bong is the one who teaches us?!). Last the Mini Durian Rolls teach by her assistant too.
Every trainee took 1 small portion of Kueh Lapis, 3 Durian egg tarts and 2 Mini Durian Rolls home. Frankly speaking I don't think her Kueh Lapis looks (if you see the way she bake) and taste good. The Durian Egg Tarts the filling was good but the crust was terrible wasn't melt in mouth. And last the Mini Durian Rolls is chewy might be that piece of sponge cake in between.
Kueh Lapis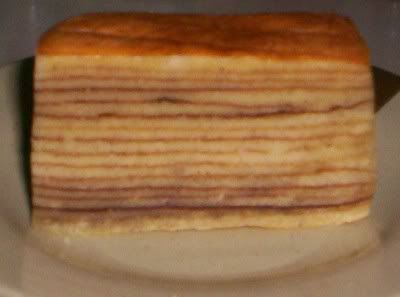 Durian Egg Tart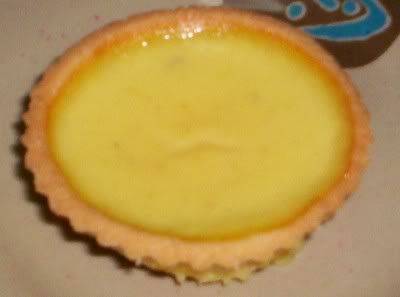 Mini Durian Roll