Pineapple Tarts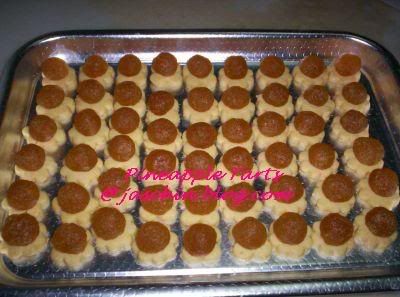 Pineapple Tarts
Makes 100 pieces
Ingredients
Pastry:
300g plain flour
¼ + ¼ tsp salt
4 tbsp corn flour
200g butter or margarine
3 tbsp icing sugar (Omit if u wants to, as ready-make paste are usually too sweet)
2 egg yolk
1 Packet of ready-made pineapple paste (roll into small balls)
Method Pastry:
1. Sieve flour, corn flour, salt and icing sugar into a mixing bowl.
2. Rub in margarine or butter and add egg yolk to form a dough.
3. Roll pastry into 0.5cm thickness and stamp out with a cutter.
4. Press about 0.25cm deep in the center. Add one teaspoon of filling.
5. If you like, you can decorate the tart with two strips of pastry placed to make a cross on the top.
6. * Bake in a preheated oven at 150ºC for 28 - 30 minutes or till lightly brown.
Note:
* First bake the pastry for 12 minutes then place ready roll pineapple filling on top the pastry and bake another 16 minutes more. This is to pervert over-bake the filling.
I'm using cookie cutter for the tart and I got approximately 100 pieces of pineapple tarts.