French Country Cheesecake
Finally regain my battery it time for me started baking again! Heehee. Baked French Country Cheesecake & Marble Light Cheesecake today. Manage to take some photos before the battery in my digital camera dies.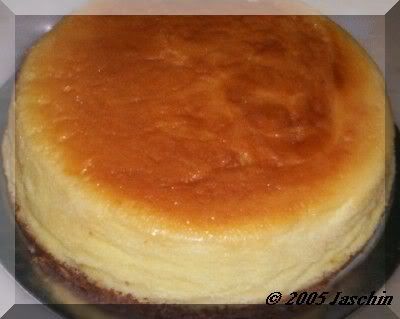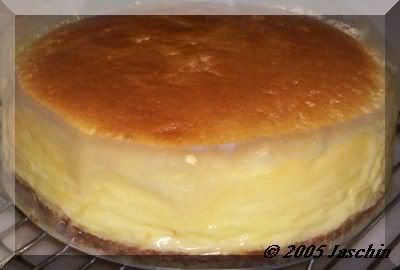 French Country Cheesecake
Makes a 7" cheesecake.
Base:
Sponge Cake Base
OR
Digestive Biscuit Base
Filling:
(A)
50g sugar
30g butter
(B)
250g cottage cheese, sieved
30g corn flour
½ lemon zest
(C)
2 eggs
(D)
40g sour cream
40g whipping cream
(E)
2 egg whites
50g sugar
1 tsp lemon juices
Method:
1. Press the digestive biscuit base onto the greased 7" inch spring form tin.
2. Cream (A) until smooth. Add (B) and cream until well blended.
3. Add (C) one at a tine and cream until well combined. Add (D) and cream until smooth.
4. Whip the egg whites in (E) until foamy. Then add the remaining (E) ingredients. Whip until stiff. Add it to the cheese mixture from step (3). Mix until well incorporated.
5. Pour the cheese filling onto the prepared biscuit base.
6. Bake in water bath at 160C for 70 – 80 minutes or until golden brown and the center is set. Remove it from the oven and set aside to cool. Refrigerate for 5 hours before serving.
Variation:
For (D) you can use all sour cream or whipping cream.
Note:
1. Recipe asked for cottage cheese but I had use cream cheese. Just cream cheese as usual.
2. Instead of 40g sour cream and 40g whipping cream, I had use 80g whipping cream.
3. Reduce the sugar if you prefer less sweet.