Marble Light Cheesecake
Marble swirl effect wasn't nicely done. I got to much chocolate cheese batter and I started to panic and I pour all the chocolate cheese batter on the center. I should have spoon or pipe the chocolate cheese batter in.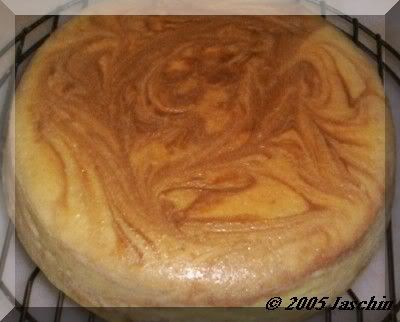 Marble Light Cheesecake
Makes a 7" cheesecake
Ingredients:
(A)
250g milk
20g butter
(B)
125g cream cheese
(C)
50g flour
(D)
3 egg yolks
1 tsp vanilla essence
(E)
3 egg whites
1/8 tsp cream of tartar
80g sugar
Pinch of salt
(F)
1 tsp chocolate paste
Method:
1. Grease a 7" spring form tin and line the bottom with paper.
2. Cook (A) until it boils. Cream (B) until smooth. Pour (A) into (B) and mix until well blended.
3. Add (C) and mix until well combined. Place it over double boiler. Mix until it thickens. Remove it from double boiler. Add (D) and mix until well blended.
4. Whip the egg whites in (E) until foamy. Then add the remaining (E) ingredients. Continue whipping until soft peaks. Add it into the cheese mixture from step (3). Mix until well incorporated. Reserve 100g of the cheese batter and mix it with (F) to make chocolate cheese batter.
5. Pour the plain cheese batter onto the prepared tin. Then drip the chocolate batter on the top. Swirl to make marble pattern.
6. Bake in water bath at 160C for 50 – 60 minutes or until the center is set and golden brown.
7. Remove the cake from the pan immediately. Set aside to cool. If you let the cake cool in the pan completely, it will shrink tremendously.