Chilled Beancurd
Finally made Amelia's Chilled Beancurd. Thanks for sharing Amelia. This Chilled Beancurd does melts in mouth. I would say this Chilled Beancurd was so good. The texture was so soft and smooth even better than those shops selling tau huay. DH said, can open stall and sell Chilled Beancurd. *LOL*
I had bought the wrong agar agar powder. I should have bought the clear agar agar powder but I took the "green" color agar agar. Heck it, I added few drops of pandan paste made it greener and it has a tang pandan flavor.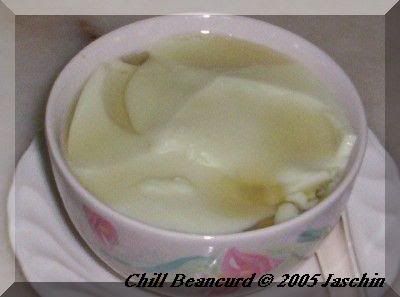 Chilled Beancurd
Ingredients:
500gm Soya Bean ( Soak for 5 -6 hours )
2875 mls water
125 mls evaporatd milk
1 Tbsp agar agar power
2 tbsp sugar
Pandan leaves 3 - 4 pcs
Method:
1. Liquidize the soya bean with 2000mls of water and sieve twice
with "cotton bag ". Top up with water to get 2875 mls of soya milk.
2. Dissolve the agar agar power with 500 mls of soya milk.
3. Pour in to the remaining soya milk, sugar and mix well.
4. Boil with pandan leaves till boil ( stir constantly ) and continue to
simmer for another 10 mins over low heat.
5. Add in the evaporated milk, stir well ( DO NOT BOIL ) remove and
leave to cool slightly for 5 mins.
6. Scoop out the bubbles and the bean curd skin.
7. Pour into the 4 oz round / 180mls Cup ( disposable plastic container
with cover) and leave to set.
8. After 10 mins scoop out the bean curd skin ( In order to get a smooth
surface )
9. When cool cover with the plastic cover and chilled in the fridge till set.
10. serve with sugar syrup or gula melaka syrup.
11. can be kept in the fridge for 3 to 4 days.
Sugar Syrup:
Castor sugar 300 gm
Water 360gm
Pandan leaves 3 - 4 pcs
Method:
1. Mix all and cook till boil, continue simmer for another 5 mins.
Gula Melaka Syrup:
Gula melaka 150gm
Brown sugar 150gm
Castor sugar 50gm
water - adjust to suite own sweetness
Method:
1. Mix all and cook till boil, continue to simmer for 5 mins.