Blueberry Cheesecake
Bake Blueberry Cheesecake this morning.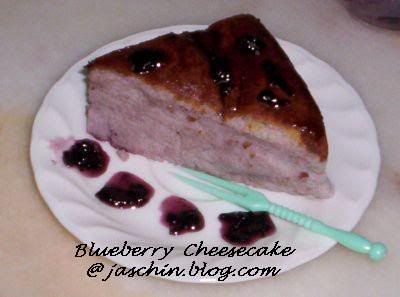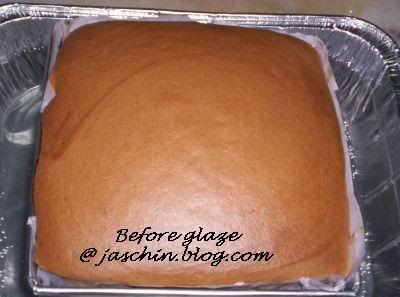 Blueberry Cheesecake
Ingredients:
250g cream cheeses
50g butter
100ml fresh milk
60g superfine flour
20g corn flour
6 egg yolks
¼ tsp salt
¼ tsp blueberry coloring
1 tsp blueberry essence
6 egg whites
¼ tsp cream of tartar
140g fine granulated sugar
Blueberry Glaze:
2 tbsp blueberry jam
1 tbsp water
Place jam and water into a saucepan, slowly melted jam and thicken.
Method:
1. Melt cream cheese, butter and milk in a double boiler.
2. Cool the mixture.
3. Fold in the flours, egg yolks, coloring, blueberry essence and mix well.
4. Whisk egg whites for about 1 min then add in the cream of tartar continue whisk until foamy.
5. Add in the sugar and whisk until soft peaks form.
6. Pour into a 8" round cake pan (lightly grease and line the bottom and sides of the pan with greaseproof paper).
7. Bake cheesecake in a water bath for 1 hrs 20 minutes or until set or golden brown at 160C.
8. Spread glaze on top of the cheesecake.