Mini Sausage Roll
Trying to get rid of the old bread and I made this Mini Sausage Roll nighttime snack yesterday. And I manage to get rid some of the egg whites too!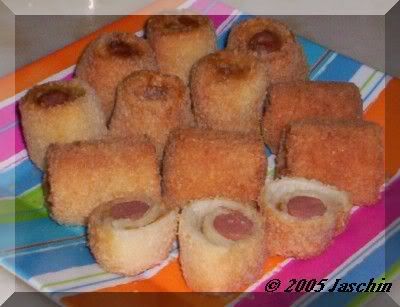 Mini Sausage Roll
Ingredients:
Bread, remove the crust and flatten it with rolling pin
Mini sausage or Chicken franks
Mayonnaise sauce
Egg whites or egg, lightly beaten
Breadcrumb
Oil, for deep-frying
Method:
Spread mayonnaise on the flatten bread.
Place the sausage on the side of the bread, roll and seal. Cut into 3 mini rolls.
Dip bread roll into the egg white and roll it with breadcrumb.
Deep fry roll in hot oil till golden brown.
Note:
One slice of bread makes 3 mini rolls. Make as much as you like. ^^