Jin Dui (Sesame Glutinous Ball)
Made Jin Dui (Sesame Glutinous Ball) today. Using Florence's recipe. Thanks for sharing Florence! Very nice but too oily I guess my cooking method goes wrong. I wonder why mine Jin Dui doesn't puff up nicely like hers. Eh never mind it will look better the next time. LOL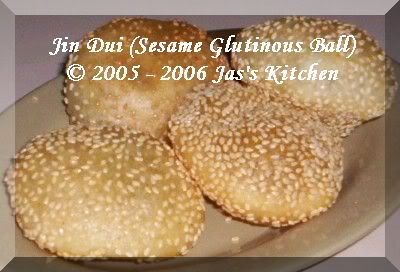 Jin Dui (Sesame Glutinous Ball)
Ingredients:
75g glutinous rice flour
75ml water
25g sugar
sesame seeds
Method:
1. Put water and sugar in a saucepan and cook till sugar dissolved. Leave aside to cool.
2. Pour cooled sugar solution into glutinous rice flour and knead till a piable dough is formed.
3. Divide dough into 8 equal portions of about 20g - 22g each.
4. Damp your palms and shape the dough pieces round and coat it with sesame seeds.
5. Heat a wok with sufficient oil until oil is about 70% hot.
Turn off the heat and slide in the dumplings. Once the dumplings start to float,
turn on the heat again and flatten the dumplings constantly with a ladle.
6. Deep fry until dumplings are crispy and golden in colour. Drain well and serve hot.