Chao San Si With Egg Tofu
Tonight dinner "Deep Fry Dory Fish" and "Chao San Si With Deep Fry Egg Tofu".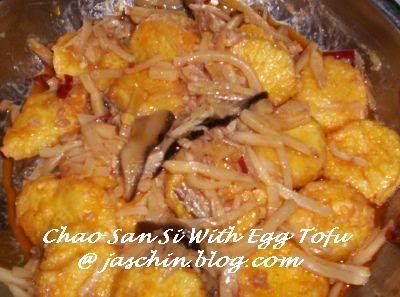 For the chao san si with deep fry egg tofu, of course need to deep-fry the egg tofu first. Coat egg tofu with corn flour and deep fry till golden brown and strain. Stir fry the san si, add a little of water and egg tofu simmer for a while approximate 2 – 3 minutes and it done.
What is Chao San Si? It actually a canned food Chao means stir-fry and San Si means shredded three. Inside there's shredded bamboo shoot, shredded mushroom and shredded meat and that why it called chao san si.