Wanton Soup
Made some Wantons for my wantons soup. And I kept some wantons for deep-frying too. Weather is bad remembered to drink more "Liang Teh" or else ulcer start growing.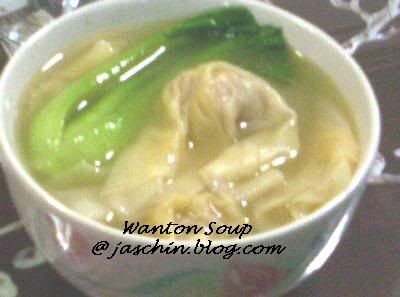 Wanton Soup
Ingredients:
300g minced meat
4 crabmeat sticks, diced
Wanton wrappers
1 liters chicken stock or ikan bills stock
Some greens
Chopped spring onion
Seasoning:
1 tbsp sesame oil
1 tsp ikan billis powder
1 tsp corn flour
½ tsp salt
A dash of pepper
A dash of MSG
Method:
1. Marinate minced meat and crabmeat stick with seasoning for about 30 minutes.
2. Place some filling on the center of each wrapper seal the top with a slight of water.
3. Bring a pot of water with 1 tbsp of oil to boil.
4. Add in the wantons, cook wantons for 2-3 minutes. Drain, set aside. (Do not overcook the wantons as it needs to be boil again).
5. Bring stock to boil, add in some greens and the wantons once wantons are cooked it will float onto the surface.
6. Drizzle some sesame oil, pepper and some chopped spring onion. And serve.
Note:
Add water chestnuts to the filling to have a crunchy texture.