Khong Bah Bao
Made braised meat with egg today too. Here is my khong bah bao.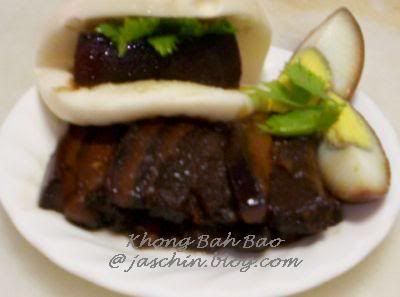 Braised Pork Belly With Egg.
Ingredients:
1 kg pork belly (cleaned and wiped dry)
2 whole garlic
3 tbsp sugar
3 tbsp oil
2 packet spices (those ready packet with cinnamon sticks, star anise, cloves and cumin seed?)
½ cup dark soy sauce
Water
1 tsp salt
Some hard boil eggs
Some lotus leaf buns (steam)
Method:
1. In a deep pot, heat the oil.
2. Add in the sugar, stir. (fire should be kept small at this moment)
3. Allow the sugar to caramelize to a golden brown liquid in the oil.
4. Add in the garlic and spices.
5. Add in the pork belly and allow it to sear and be coated with the caramelized sugar.
6. Add in dark soy sauce, stir.
7. Add water till it covers the pork belly. Add in the salt
8. Allow to boil. Turn the fire to small and allow to braise for 1 hour.
9. Add in the hard boil egg let the egg rest in the sauce for 20 minutes.
10. Serve with lotus leaf buns.