Chwee Kueh
Made Chwee Kueh today. It one of my all time favorite recipes, previous I've tried out other recipe from some forum. Lesser work but it doesn't turn out well, quite rubbery. Although this recipe might be a little more work. Need to cook the batter before brings it to steam, it definitely fail-proof.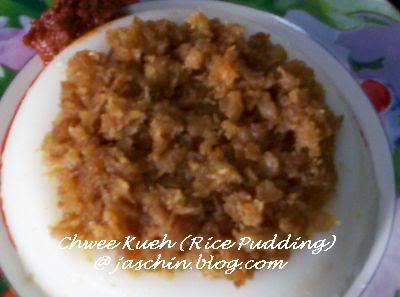 Chwee Kueh
Ingredients:
180g rice flour
25g corn flour
800ml water
2 tbsp oil
½ tsp salt
Method:
1. Place the two flours into a bowl and pour about 300 ml water. Mix to form a smooth batter. Strain.
2. Bring remaining (500ml) water, oil and salt to boil. Reduce to low heat. Pour in batter and stir constantly till it thickens.
3. Grease a few chwee kueh moulds. Pour the mixture into each mould and place it on steamer. Steam over rapidly boiling water for about 10 minutes.
4. Remove from mould and spread topping over it.
5. Serve hot with rasdish topping.
Note:
Constantly stir the batter if batter get lumpy, it ok just quick stir the batter to get less lumpy and bring to it to steam.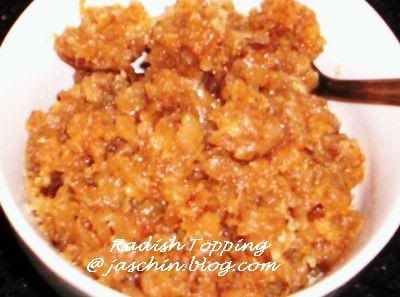 Radish topping
Ingredients:
200g chai poh
50g dried scrimps, grind
5 tbsp oil1 whole garlic, minced
3 tbsp sugar
Method:
1. Soak the chai poh and scrimps separately for 10 minutes. Rinse and drain well.
2. Heat oil and sauté the garlic till golden brown.
3. Add in the dried scrimps fry till fragrant.
4. Add in the chai poh and stir-fry till dry.
5. Finally add in the sugar.