Carrot & Coconut Muffin
Manage to dig out a packet of desiccated coconut from the cabinet. Eh decided to bake muffins today. Made this Carrot & Coconut Muffins. I'm using Amy Beh's recipes did a bit of modified and omit some of the ingredients.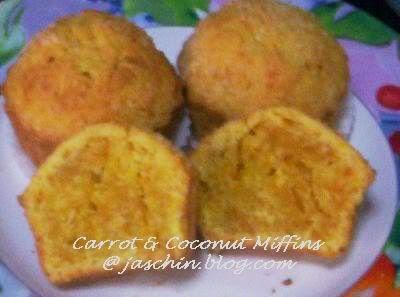 Carrot & Coconut Muffins
Ingredients
· 130ml corn oil
· 190g castor sugar
· 2 large eggs, lightly beatenSifted
· 210g plain flour
· 1 ¼ tsp baking powder
· ½ tsp bicarbonate of soda
· ½ tsp salt
· 2 tbsp milk
· 200g granted carrot
· 50g desiccated coconut
· 35g walnuts, toasted and chopped coarsely (optional)
Method
1. Position rack in center of the oven and preheat to 190°C.
2. Grease a 12-cup standard-sized muffin tray
3. Combine sugar, corn oil and eggs in a large mixing bowl.
4. Stir in sifted flour, baking powder and bicarbonate of soda.
5. Mix well to combine with a wooden spoon.
6. Add in remaining ingredients and stir well to blend.
7. Divide batter among prepared muffin cups and bake for 20–30 minutes.
8. Turn muffins out onto wire rack to cool. Serve warm.