Apple Drink
Normally I don't cook, bake or do anything on Monday as my hubby he is a Burmese, he believe no matter what we do on Monday it a double work double effort. Which I think it just a superstitious. Okay I make some "Apple Drink" today. I drink it with the apple, you can strain off the apple if you want too.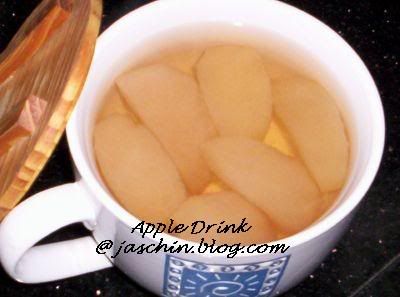 Apple Drink
Ingredients:
5 apples, skinned & cored
2.5 Liters
Rock sugar, to taste
Method:
1. Bring apple and water to boil. Simmer 30 minutes.
2. Add in the rock sugar to taste.
3. Serve cold or hot.