Bread Pudding II
I know DH wasn't happy since I met "him" on the Saturday night. So I baked DH's favorites Bread Pudding to cheer him up. Hmmm.... But who's going to cheer me when I'm not happy? Sigh~~~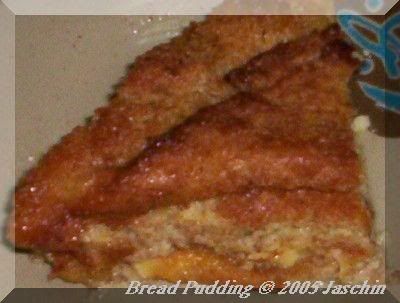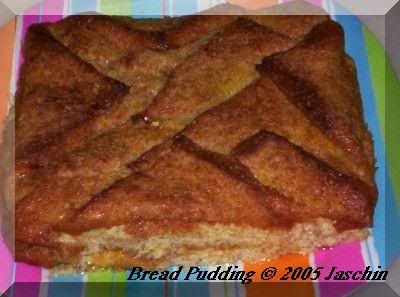 ----------------------------------------------------------------------------------
NOVEMBER 02, 2005, 05:38pm.
Made Bread Pudding again which DH requested for. After the first Bread Pudding he had been bugging me for the 2nd Bread Pudding. Okay time to grant what he asked for, cause usually he wont make such request.
I had increase the previously recipe. I guess I had over stuff my 7" inch spring form pan with 10 slices of whole meal bread, 3 eggs and 500ml of milk! And the whole Bread Pudding got over-flow the pan and the base is leaking! Perhaps I shouldn't have use spring form pan in the beginning. Plus I forgotten to remove the bread crust it might looks burn but it wasn't, in fact the crust turns "Crispy".
I went to Eve's blog, hers Bread Pudding was so nicely baked and nicely remove from the pan. *Envy* Alas, she doesn't quite fancy about it. LOL